Sacred Falls
Directly off Kamehameha Highway is the entrance to Sacred Falls State Park. The hike begins relatively easy and then begins to wind into two towering cliffs which line each side of the rocky trail to the falls.
Due to frequent rockslides from the surrounding cliffs this park has been permanently closed and off limits to the genral public. The park system has also installed closed circuit video survalince equipment to catch tresspassers who attempt to enter the park. Tickets ranging from $75 to over a $100 have been issued to hikers who have ignored the restriction.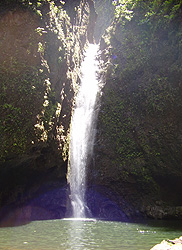 The closure of the park is directly related to series of accidents. The worst included a dozen tourists who were instantly killed by a large group of falling rocks located next to the falls.
For hikers who choose to risk the potential environmental and legal consquences the hike is breath taking. The large waterfall at the trails end spills with great force within a secluded cove that feels untouched by the outside world.
View Larger Map