Lyon Arboretum
Lyon aboretum is located on Manoa Rd about 15 minutes outside Waikiki and Downtown Honolulu. This aboretum was named Dr Harold Lyon who is responsible for importing thousands of plant varetities to Hawaii. The arboretum showcases countless vareties of flora with hiking trails and informational signs throughout the park.
When visiting the area it is important to check in with the office. A short introduction of park and map are provided free of charge. Most importantly the caretakers supply a special homemade recipe of mosquito repellant that seems to be the only effective deterrent against the pesky residents. Use your own mosquito repellant at your own risk and dont forget your running shoes.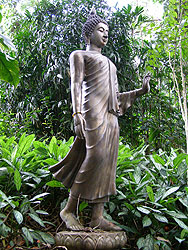 There is also a good chance of rain in this area during most times of the year. Dress approiately and watch out for falling coconuts!
View Larger Map