Lanikai Beach, Oahu
Lanikai beach is one of the most beautiful stretches of beach in all of Oahu. In fact it has been rated one of the top ten in the world.
Wide areas of uncrowded beach with picturesque clear blue water make this the ultimate beach for relaxation and a carefree swim. The surf is relatively docile to non-existant most of the year making it a good area for children as well.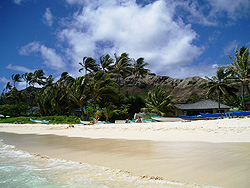 This beach resides in a prominently residential area and reached by public beach access points. These access areas dot the surrounding areas but just keep in mind to be respectful where you park.
Showers and facilites are not present at the beach but a series of nearby shallow reefs make it decent snorkeling location so dont forget your mask.
View Larger Map